100 years ago, on 18/11/1910, two women were injured and later died because they tried to enter Parliament. They were part of a group of Suffragettes who went to the Houses to demand a debate on the Conciliation Bill, a bill that would have given some women basic voting rights. Of the 300 who came, 200 women were arrested that day. There were 6,000 police. We call it Black Friday.
100 years have passed. Fewer than 1 in 5 MPs are women. Only 1% of the world's money is controlled by women. For every 10 people displaced by climate change, 7 are women. There is a vigil being held at 6.30pm on 18/11/10 on College Green, Parliament Square to remember Black Friday. Bring a candle, a jamjar, a banner and a veil. Hear Caroline Lucas MP and Dr Diane Atkinson. Remember the Suffragettes. More details here. or you can see the Climate Rush Facebook page.
Here's a link to the Climate Rush website – because "well behaved women seldom make history" !!!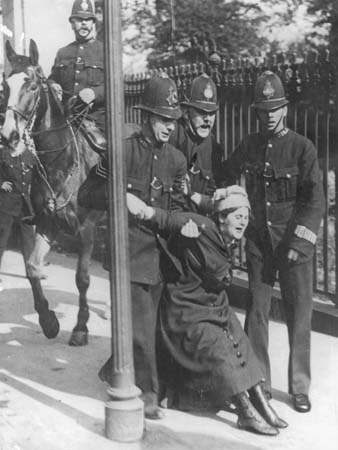 Please add your comments below.