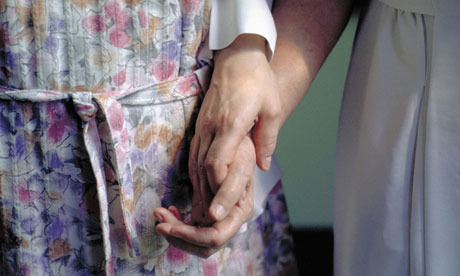 The East Devon Green Party were shocked to hear figures out last week showing that more than 650 elderly residents have died of dehydration in the past five years in Britain's care homes. A further 157 care home residents died of malnutrition and almost 2,000 pensioners were killed by superbugs.
The Office for National Statistics found that 1,446 care home residents died as a result of pressure ulcers or bedsores, 4,866 were victims of septicaemia or blood poisoning and 4,881 had fatal falls. These deaths are happening in care homes which cost on average £600 – £800 per week.
38 year old Green Party area co-ordinator and Green candidate for Honiton, Sharon Pavey works as a care assistant in a residential home specialising in caring for elderly people with dementia. She described these figures as "simply shameful" adding "It is appalling that thousands of people have been and are still being neglected in this way. Our elderly relatives are dying every day in the UK because basic levels of care are not being given, and we are asking why?"
Sidmouth Green Party member Sharon Howe was also shocked by the figures "My Mum spent several years in three very good care homes in Sidmouth so this subject is close to my heart. I have a friend who recently worked in a very prestigious care home in Devon and was totally appalled at the way residents were treated. Care in this country obviously varies a great deal from home to home."
Tony Smith Chair of Honiton Senior Council is concerned about the standards of care locally "There are a number of care homes in the Honiton area, and I'm sure some of them are very good but we are worried about these figures showing that our elderly population is being let down".
Mr Smith explained that the Senior Council would like to see a survey done locally in order to establish the levels of care and highlight any concerns which can then be addressed.
The East Devon Green Party would like to hear your views on caring for the elderly or any other issues which affect you. They are holding a coffee morning at the Christ Church Hall in Exmouth on Saturday 19th February from 10am until midday. For anyone in the Honiton area, there's a Green Party fundraising skittles night on Wednesday 23rd February at The Heathfield Inn from 8pm. Non-members welcome, tickets are £6 from Sharon Pavey Tel: 07740973990 or sdpavey@googlemail.com